Juhannus 2006 - by James O'Sullivan
Mood:
party time!
Topic: Stories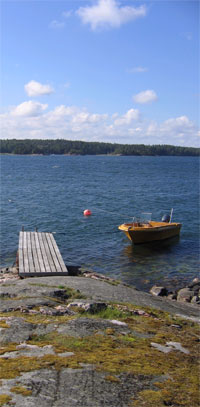 It seems that the celebration of the midnight sun here in Finland can be equated with the coming of the full moon and personal transformations that come with. Well, maybe not sprouting fur, claws and fangs, but a drunken mess of accidents, personal harm and setting fire to large piles of dead wood seem to be the way of it.
I was lucky enough to travel to a small island off the the Western shore to celebrate my first Juhannus with relatives. It all seemed harmless and peaceful. Beautiful surrounds, endless sunlight, good company and enough alcohol to kill a nordic pony. Everything still and quiet.
I'm not sure of the forces that influence the night, but things quickly turned on their head. Waiting to light the kokko (midsummer fire) my Uncle seemed to be taking a while to return from the call of nature. A quick check and we discovered his shoulder had mysteriously popped from its socket 'putting on a tight sweater', and he was lying face down in the sauna. I'm not sure if the fact he could barely walk due to intoxication previous to this had anything to do with it, but we weren't about to question him.
None of my relatives were in any state to drive a boat to the mainland, so we waited on the water ambulance to come and attend to him. So whilst he lay there screaming in pain, I tried to enjoy the flickering kokko, delighted to see similar fires burning along the shoreline, and wondering about the beauty of life and what the year might bring and other such alcohol-induced existential revelations.
When it came time to put the fire out, i reached into the sea to gather a bucket of water, slipped and fell off the rocks into the ocean. Giggling like a school girl, and thankful my head was still in one piece, i clambered onto the shore, drenched from head to toe and wandered back to the sauna where i sat curled up and shivering as my uncle snored, muttered unintelligible sentences and groaned whenever he moved.
And so, the water ambulance arrived around 3am, put my uncle on the boast with a selection of other hazardous Juhannus revelers, and sped him to the nearest hospital on the mainland where he remained for the night...
The rest of the weekend was a little more subdued, save for my aunt falling over the edge of the boat the next day and severely bruising herself.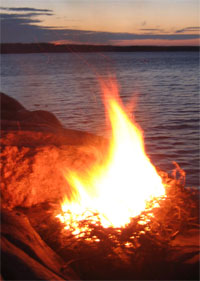 Reading about Juhannus when I returned back to Helsinki the next day, it seems that our misfortune was not an isolated event. Some 11 people died over the weekend, 7 of them drowning! This was a typical number of fatalities for this celebration.
In the western town of Pietasari, 3 hectares of forest were destroyed when a campfire burned out of control! Stories of men accidentally skewering their eyeballs with sticks of hay in the ground when participating in a push-up competitions, and drunken fishermen drowning when standing and urinating off the edge of their boats seemed the norm. What on earth is this Juhannus?!?! It all seems to be a part of this crazed behaviour that's prevalent in the 3 months of light and sun that comes to Finland every summer.
9 months of doom and gloom, snow and rain and sub-zero temperatures, and suddenly the country is a-flood with wife carrying competitions, ant-hill sitting competitions, national 'no trousers day' and any excuse to drink beer and eat your body weight in sausages before 8am!
I think I'll be packing my helmet and life vest for Juhannus next year...